This post is also available in Dutch.
A previous blog briefly described how diffusion-weighted imaging, or DWI, measures the movement of water molecules in the brain to estimate the location, diameter, and orientation of nerve fibers. Initially, the idea of studying the brain by calculating water movement may seem silly. How do water molecules relate to nerve fibers? How can neuroscientists study a phenomenon that they cannot see?
White matter fibers are the highways of the brain
White matter in the brain contains the nerve fibers of neurons and conducts electrochemical signals to other neurons. These fibers are like highways that connect major cities together. When the highways are in better condition, or wider, or more in number, then many cars travel quickly between cities. However, if the highways are in poor condition, or narrower, or fewer in number, then fewer cars can travel and will do so at slower speeds.
Generally, nerve fibers are covered in myelin, which gives white matter its relatively lighter appearance (hence the name). Myelin insulation increases the information transmission speed of a nerve fiber (i.e., the stuff that keeps the highway of nerve fibers in good condition).
Diffusion-weighted imaging measures the movement of water
Diffusion-weighted imaging, or DWI, in the brain is a type of magnetic resonance imaging method that non-invasively examines white matter at the microscopic level (i.e., microstructure). First applied to the human brain in 1986, DWI has since been used to non-invasively examine white matter microstructure. DWI measures the random motion of water molecules—a phenomenon first described fully by Albert Einstein in 1905.
In brain tissue, water molecule movement becomes either more or less directional depending on a water molecule's location. Water inside of a nerve fiber moves in a restricted manner, parallel to the fiber, whereas those outside of the fiber move more freely in all other directions (see diagram below). Whenever nerve fibers are more organized (i.e., more fibers grouped together and oriented in the same direction), the water molecules tend to move more strongly in a single direction. Thicker and/or myelinated fiber bundles will also lead to more directional water diffusion. In general, the direction of fibers is parallel to the direction with the fastest water movement.
DWI has many uses
From deducing effects of neurological diseases, to tracking neurodevelopmental disorders, to locating brain tumors, non-invasively mapping the brain's interregional connections has numerous applications. For instance, neuroscientists have analyzed DWI data from hundreds of people to figure out how white matter microstructure relates to symptoms in people with and without attention-deficit/hyperactivity disorder (ADHD). They found that, compared to people with less ADHD symptoms, those who had more symptoms also had less microstructure in a fiber tract that is important for rest, mind wandering, and emotional reactivity. Who knew that water and the way it moves could be such a powerful tool!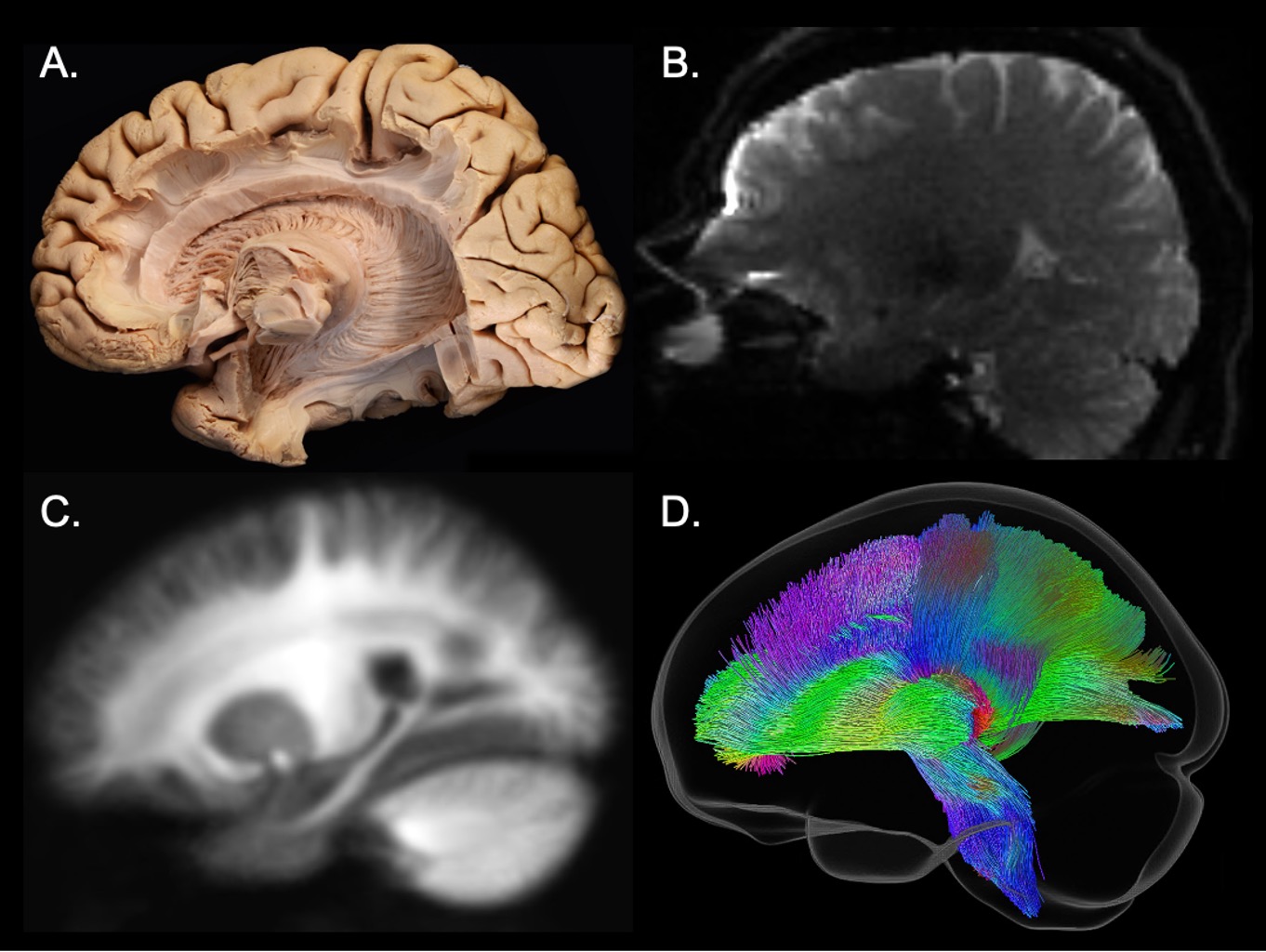 Credits
Author: Christienne Damatac
Buddy: Felix Klaassen
Editor: Ellen Lommerse
Dutch translation: Wessel Hieselaar
Translation editor: Marlijn ter Bekke